Summary:
This paper reports 1-Naphthyl-2-cyanoacetamide used as a precursor for the synthesis of different novel heterocyclic moieties such as 5-Aminopyrazole, thiazolinone, pyrazolo[1,5-a]pyrimidine, 4H-pyrazolo[3,4-d]pyrimidin-4-one and pyrazolo[3,4-d][1,2,3]triazine. All prepared compounds were characterized by different elemental analyses and spectral data. The authors have classified the compounds as a novel class of heterocyclics and the process as efficient.
The Reactions of Interest: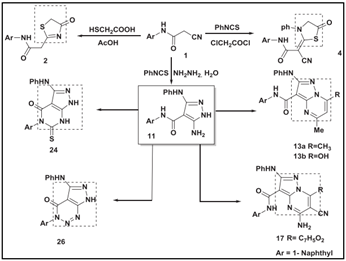 Practical observations:
The procedures that were used by the authors were repeated and the formed products were elucidated practically via comparing the melting points and yields. Thus, the derivatives were prepared in the following yields:
Phenyl thiazolinone 2 (75% yield, m.p=228-230 °C),
Thiazolinone derivative 3 (70% yield, m.p= 278-280 °C),
5-Aminopyrazole 4 (75% yield, m.p=170-172 °C),
Pyrazolo[1,5-a]pyrimidine 5 (85% yield, m.p= 217-219 °C),
Pyrazolo[1,5-a]pyrimidine 6 (80% yield, m.p> 300 °C),
Pyrazolo[3,4-d][1,2,3]triazine 7 (75% yield, m.p=260-262°C),
4H-pyrazolo[3,4-d]pyrimidin-4-one 8 (75% yield, m.p=278-280°C).
As described in the paper and as per the experimental replicability study, the possibility of re-preparation of the compounds is relatively easy.
All reactions could be reacted stoichiometrically in polar solvents as ethanol, acetic acid, DMF using a variety of reagents were used for example phenyl isothiocyanate, choloracetyl chloride, Acetyl acetone arylidine derivatives.
Comments:
Preparation of the reported compounds should be carried out in eco-friendly solvents instead of the used solvents.
The structures of these new compounds suggest probable medicinal properties which could be important for anti-bacterial, anti-fungal, anti-viral, anti-tumor activities, and may be useful as herbicidal/ plant growth regulators.