Summary:
This paper reports a methodology for synthesis of substituted benzimidazole, benzothiazole, and benzoxazole in aqueous media. The method is novel in its approach of utilizing water as the medium, making it fit for a green chemistry protocol. The paper reports the screening of various metal oxides for carrying out these reactions and choosing the nano-CeO2 as the preferred one. The adequacy in amount of catalyst, its recyclability and the probable mechanism of its action have also been explored. A thorough study is reflected in the synthesis of 67 such compounds.
The Reactions of Interest: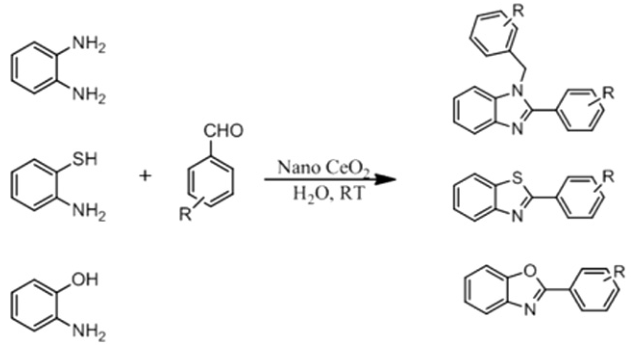 Practical observations:
The authors do not mention the solubility of the various aldehydes in water. Ortho-phenylenediamine is not soluble in water. So, its reaction with aldehydes does not require water. In fact, it was found to be true for various aldehydes. Simple grinding by mortar-pestle yielded products with nearly the same yields.
Another method tested, was the catalysis by Copper nitrate in methanolic medium. It required as little as 5ml of methanol at room temperature, to carry out the reactions with fairly good yields. The amount of copper nitrate needed was about 3 mol% and reaction time about 20 minutes.
Catalysis by nano-CeO2 followed the results found by the authors, with good reproducibility for optimization and recyclability parameters as reported in Table 2 and Table 3 respectively.
One advantage of using nano-CeO2 over other methods was reflected as "In case of Scheme 1, The reaction of 1,2-phenylenediamine and benzaldehyde in 1:2 ratio gave only 1,2-disubstituted benzimidazoles whereas when this ratio was changed to 1:1 then 2-substituted benzimidazole was obtained with 98% product yield under same reaction conditions (Figs. 3–5)." This method proved to be much more decisive in producing the 2-substituted benzimidazole in such high yields.
Modifications/ Comments:
Although using water as the medium is a good one, but grinding methods could also be used without disturbing the nano-CeO2.
Catalysis by copper nitrate in methanolic/ aqueous solution can be used as an alternative method.